This shop has been compensated by Collective Bias, Inc. and its advertiser. All opinions are mine alone. #ProtectFromPetMess #SeasonalSolutions #CollectiveBias
As cute as our dogs are, they are definitely a handful! Especially living in an apartment. But I wouldn't change a single thing. We knew we were in for trouble when we brought Franco (our Pug) home in New York. Right away you could tell he was going to do his own thing and not be too keen on listening! It's also really hard for me to say no to his cute face.
People always ask us at the dog park, "how do you manage three dogs!? Isn't it too much work?" And we always reply, "it's pretty much the same as having one, only we go on more walks."
We had adopted Franco to give Norman a play buddy when we were at work since he used to have really bad separation anxiety. Franco was definitely the cure. Pixel (our smallest Boston Terrier) was adopted because we couldn't let her go to a shelter. Back when I had my dog walking business in New York three years ago, she was one of my dogs. Because she's blind the owners kept her in a small crate like box all day long, and the only exercise she had was when I would come walk her. Around a month or so after I started walking her the owners let me know they would be putting her up for adoption because they can't handle her anymore. Right after I told my husband this we knew we were taking Pixel home.
We have never once treated her like a blind dog. She is fearless. People don't believe me at the dog park when I tell them she's blind and they see this happy Boston Terrier running with other pups. She really has changed all of our lives for the better and I'm grateful everyday we decided to bring her home to our tiny New York apartment.
Now that we live in Los Angeles we have even more space to clean. Rather than wait and do a big once a week clean, we like to spend a few minutes each day tidying up which makes a huge difference!
 4 steps we take to help keep our apartment clean
1. Baby wipes are key
After each walk we use hypo allergenic unscented baby wipes to clean their paws. You'd be surprised at how dirty their paws get from a 30 minute walk. In the winter in New York we would use baby wipes and a microfiber towel to dry them off if it's raining or snowing. We tried using the little paw boots for the snow but none of our dogs liked them and pretty much refused to walk if they had them on.
2. STAINMASTER®™ Carpet Pet Stain Remover for all things stain related!
If you have dogs then this is a must have at home. I find we use this the most after a dog park day. Especially if we take them to Laurel Canyon. I think their paws are clean and then I look at the floor and STAIN.  STAINMASTER lifts away tough pet stains and eliminates odors, which is key to getting dirt and other stains out. You can find STAINMASTER in the cleaning aisle at your local Target store! The game changer for me is that it cleans AND protects against future stains.
How To Use Product:
SPRAY: Spray product liberally and directly on affected areas.
WAIT: Wait 3-5 minutes to allow solution to penetrate the stain.
BLOT: Dampen the spot with water and blot with a clean, colorfast paper towel or cloth. Repeat as necessary to remove the stain. For best results treat stain immediately.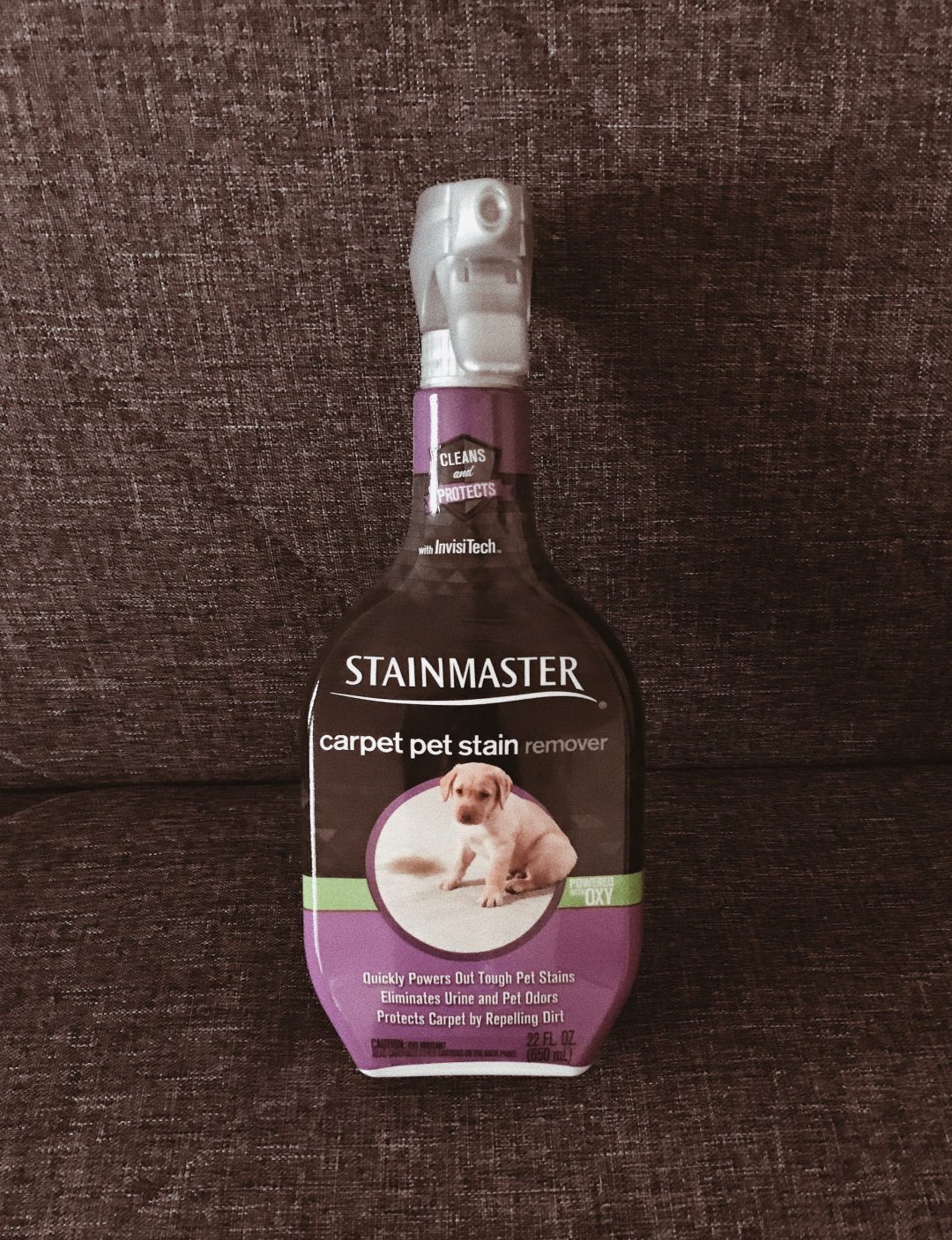 3. Raincoats…trust me
I know they're cute and I know your dog probably won't be a fan, but trust me they work! There is nothing worse than coming home after a rainy walk with your pup and they do the shake the minute you step foot into your home. In a split second there is wet dirt everywhere. THE WORST. The raincoats really help keep them dry and you really only need to wipe and dry their paws and underbelly when you get home. Plus, they look SO cute in them.
4. Blankets on the couch
We pretty much have something covering our couches at all times. We generally take them off when we have friends over but otherwise, they are covered. This just adds an extra level of protection because you never know when something might spill, a wet dog jumps onto couch, or your husband spills coffee.
I love our little family to bits 🙂